Playgroups allow parents to introduce their children to a range of activities they may not do at home. It's also a safe way for parents to allow their children to engage socially with other people and try new things. Parents can broaden their social network, meeting other parents with children in the same age group."
At a playgroup your child will have a much wider variety of play equipment than you can provide at home. She will have to learn how to share toys and take turns which is all character building.
Your little one will also get the chance to use big adventure toys such as climbing frames that you might not have space for at home. They will also have the fun of playing in groups, maybe pretending to be on a spaceship, in a hospital, school or whatever anybody feels like doing.Your child will learn to listen to other children's play plans and follow their instructions as well as giving her own.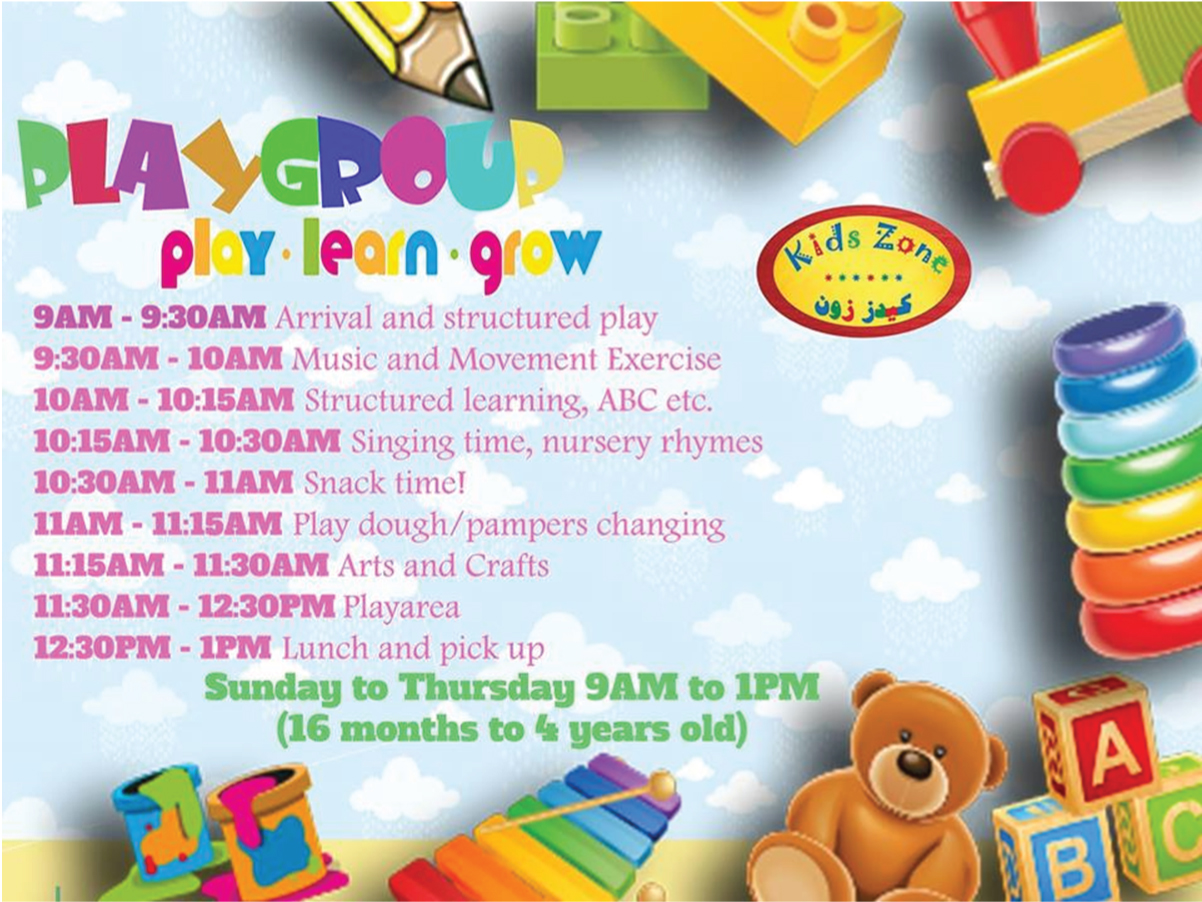 As well as increasing your child's independence and confidence and having the companionship of other children and learning to play properly with others, your child will have the chance to make relationships with other adults. This will help her learn that other people as well as her parents can be trusted and liked.
Joining a Playgroup is an enormous adventure for many children because it is the first time they go and do something on their own with other adults who are not relatives or very close friends.
If your child settles happily at a playgroup she will gain valuable experiences of happy separations, learning to do without you and knowing that you can go and be trusted to come back later.
And let's not forget the advantages for the parent. Having your child in a playgroup even if it is only a few hours a week – gives you some valuable time to yourself.
few benefits of Playgroup
1. Allowing children to develop social skills at their own pace
Your baby may be a social butterfly or the type that prefers to play on their own – and that is perfectly fine. Each child has their own approach towards developing their social skills. Playgroup is really about following the lead of the child. It allows children to develop their social skills at their own pace, and this usually occurs between the ages of one to three.
From ages three to five children begin to truly interact with others their age, and experience what happens when they do. This is also the time when social boundaries are learned – a very important lesson for adulthood.
2. Building a child's emotional
confidence
The real work begins at home, as the best thing for developing children is to have great relationships with their family members. This gives the child a sense of attachment and stability, whether we are talking about developing relationships with parents, grandparents, aunts, uncles or other carers.
A great benefit of playgroup is that the child meets new people at playgroup, which allows for a safe test of separation from their carer. This is an important trait for building confidence in children, encouraging them to be independent from an early age.
3. Encouraging physical
activity
Moulding playdough, running, jumping, singing, twirling and more! Your child can get very active when at playgroup. Don't worry if they're not the physical activity kind. The range of activities on offer at each playgroup varies.
Our indoor playarea allows children to get the opportunity to try a variety of activities. They can develop their fine motor skills through puzzles, craft and playing with toys."
4. Supporting children's imagination and creativity
The key strategy for developing creative thinking in children is allowing them to play in an unstructured way. At playgroup children can play dress-ups or develop play scenarios with dolls, and other toys.
"We know that children develop 80% of their brain in the first three years of life, so we want to give them the space to get the brain firing."
Creative thinking is of key importance to the next generation, as they will need this skillto be successful in their personal and professional lives.
5. Learning through role-play
Role play is a simple way for kids to engage with the world; this is why you may see your child fixing cars like Daddy, teaching the plush toys a new geography lesson, or administering them their "much needed" medication.
Role play develops children's imaginations and puts them in real-life situations where they need to solve problems and think of solutions. Playgroup is the perfect place to bring more characters into a child's expansive world.
We know that working through experiences with role-play has very strong benefits, it allows children to make sense of situations, understand what is happening around them and what these experiences mean for them.
The team, the set up, and the activities make Kids Zone THE BEST daycare! Our 1 and a half daughter has been going for the last 4 months on a daily basis, she can't wait to get there in the morning and wouldn't want to leave at the end of the play group session. The environment is so comfortable and enticing to kids of any age and the set of activities and themes are very well thought of and executed. Well done! Would definitely recommend kids Zone! Hats off to the amazing owner who offers the kids personalized attention and for choosing and training a trustworthy staff.
Absolutely brilliant place. Fantastic staff. My LO goes to the play group and loves it. I recommend to everyone I know with toddlers!
My son was attending this playgroup for over a year and it really helped him for when he started fs1 in terms of separation and readiness.
Nadina and her team are amazing and work really hard to ensure parents are comfortable and that the kids are happy.
My son still attends during half terms and holidays and it's really his special place 🙂